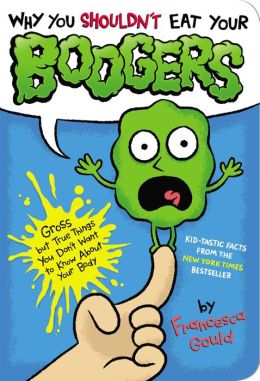 Why You Shouldn't Eat Your Boogers
by Francesca Gould
illustrated by J.P. Coovert
Putnam Juvenile; Reprint edition (March 21, 2013)
review ARC provided by
Cover to Cover
I really like this book even though it's mostly facts. The facts are really interesting and I've learned a lot about my body. My personal favorite is the one about Has Anyone Earned Money From Farting.
Even though some of these facts are gross, I have to rate this in my top ten.
The reason I liked this book is because the facts cover everything on your body, even inside your eye!
It even really does include why you shouldn't eat your boogers. -f